Life Transitions & Challenges: Facing My Struggles
I am a Registered Therapeutic Counsellor and hold a Diploma in Professional Counselling as well as a Youth and Family Support Worker Certificate. I am a member in good standing of the Association of Cooperative Counselling Therapists of Canada. I provide counselling in English and Russian.
My Story
As I look back, it is easy for me to see that my life has been full of all kinds of challenges. I have had ups and downs, many, many times in my life. I have experienced painful divorce, draining long times of loneliness, devastating affairs of my partners, many complicated emotionally dependent relationships and breakups which broke my heart. I have experienced the tremendous stress and struggle of being a single mother, and I have endured the devastating loss of both my parents. Many times I believed my life was completely ruined. It got to the point that I felt like I was nothing, I had lost everything and I would never love or be loved again.
During my life I have travelled extensively around the world. Multiculturalism is a part of my nature and I consider myself a citizen of the world. One of my most significant life transitions was moving to Canada. Starting my life again in a different culture and a new career (in a different language) was the most exciting and challenging experience of my life. It motivated me to develop new skills to overcome the difficulties I faced in order to reach my dreams of being a therapist. Somewhere along the line, I started to realize that if I, as an average person, could manage to build myself up, develop a successful relationship, and create my life in the way I always wanted, with all of my soul I came to believe that anyone could.
"I have known Lana for more than 15 years and I can say without any doubt that her life was full of ups and downs. But the most important thing is that after each fall she always finds strength to get up and reach new heights. Lana is a very friendly, open and wise person, who always tries to understand people instead of teaching them how to live" – A.T.
How My Greatest Struggles Became My Greatest Skills
The challenges I work with, I have experienced myself and this is one of the factors which allow my therapy to be efficient. I believe that everyone has enough power to overcome all obstacles and because of my experience I recognized that I could be a useful supporter for those who need it. Not only had I overcome my struggles, but the best part was I identified that those same struggles had uniquely equipped me for survival and success in my life and career in helping others, first as a lawyer and then as a counsellor. Counselling is not just work for me, it is my passion and my lifelong dream which finally came true.
Working with people from all parts of the world, I have realized that despite the fact that every culture has its own uniqueness we are all connected and united by the most important human values, needs, hopes, and goals. My Canadian lifestyle is active and sportive. Because of what I have been through, now I love every single day of my life. I am deeply grateful for what I have in my world: peace and harmony in my soul, a loving husband who is my best friend and ally, and two amazing sons in school. I value the stability and prosperity in my life, a cozy house, my dream job where I can be helpful to people, all my supportive friends, beautiful mountains, and a healthy environment surrounding me.
Even now when life gets difficult, relationships strain and we face transitions of all sorts, I no longer give my power or peace of mind away when dealing with such challenges. From an empowered mindset, I tackle life's challenges with confidence and trust, that I will yet again overcome the obstacles life presents and embrace life in all of its wonderful twists and turns!
I hope to help you do the same.
Isn't it time to take your life back?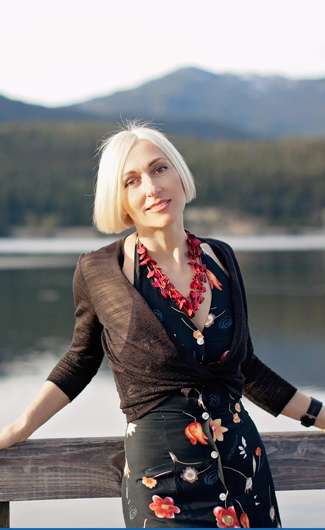 Lana Lutke, RTC
Registered Therapeutic Counsellor
FREE CONSULTATION
I work with clients locally and remotely via skype or phone
Contact me today to book your free 15-minute consultation
BOOK NOW
I am going through a life transition or feel stuck.
Learn how to change your transition into inspiration
CLICK HERE
I am experiencing an issue with relationships.
Learn how to get unstuck to create better relationships
CLICK HERE
"Success is to be measured not so much by the position that one has reached in life as by obstacles which he has overcome." – Booker T. Washington